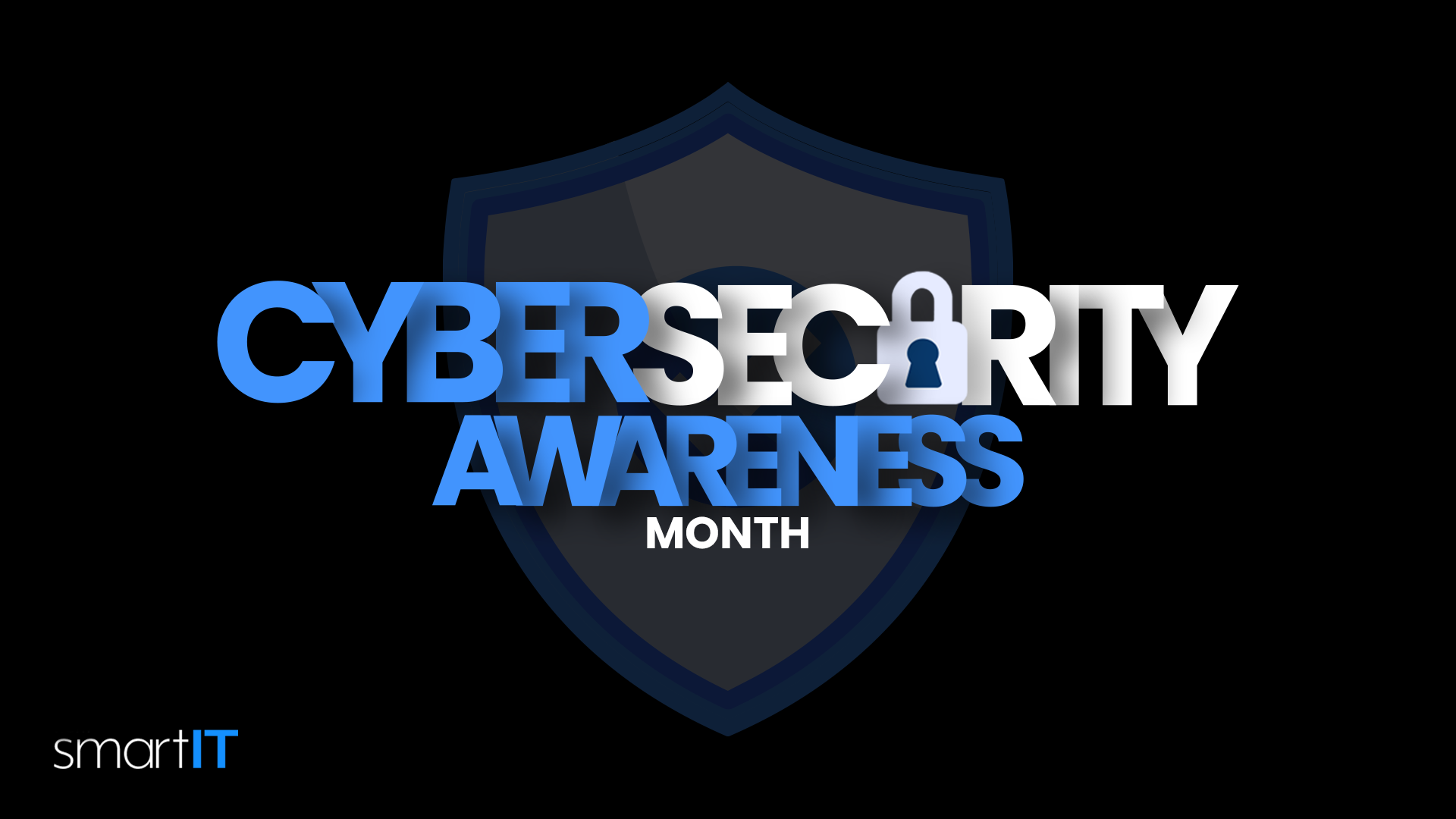 smartIT Announces Commitment to Growing Global Cybersecurity Success during Cybersecurity Awareness Month 2023

What is Cybersecurity Awareness Month?
In its 20th year, Cybersecurity Awareness Month 2023 is bringing attention to the ever-growing significance of cybersecurity in our daily lives. This annual event urges individuals and businesses alike to take crucial steps in bolstering their cybersecurity posture and ensuring online safety.
smartIT is excited to announce its unwavering commitment to cybersecurity education by actively participating in the 20th Cybersecurity Awareness Month.
Since its inception in 2004, Cybersecurity Awareness Month has been celebrated every October, making it the premier global initiative dedicated to promoting cybersecurity awareness and encouraging the adoption of best practices. This collaborative effort unites businesses, government agencies, educational institutions, associations, nonprofits, tribal communities, and individuals who share a common goal: educating others about online safety.
"At smartIT, we're proud to be a part of Cybersecurity Awareness Month. It's not just a month for us; it's a commitment to safeguarding the digital world year-round. We believe that together, through education and proactive measures, we can build a safer and more secure online environment for everyone. Join us in making cyberspace a place where protection, awareness, and peace of mind prevail."

Why does Cybersecurity Awareness Matter?
In an era where technology permeates every aspect of our lives, from mobile devices to connected homes, the rapid evolution of technology is met with equal determination by cybercriminals. For two decades, Cybersecurity Awareness Month has been a steadfast advocate for highlighting the emerging challenges in the cybersecurity landscape. It provides clear and actionable guidance that empowers everyone to create a safer and more secure digital world for themselves and their loved ones.

What is Cybersecurity Awareness Month 2023 theme?
This year, the theme for Cybersecurity Awareness Month is "Secure Our World," with the primary focus on four essential cybersecurity best practices:
Understanding the Benefits of Password Managers: We'll dispel myths surrounding the security and ease of use of password managers, emphasizing their importance in safeguarding your online accounts.

Enabling Multifactor Authentication: Learn why turning on multifactor authentication on personal devices and business networks is critical for your cybersecurity.

Recognizing and Reporting Phishing: Phishing remains a top threat action used by cybercriminals. We'll help you spot and report phishing attempts effectively.

Keeping Software Updated: Installing updates regularly and enabling automated updates is a fundamental step in fortifying your digital defenses.


Cybersecurity Awareness Month continues to gain momentum and impact, aiming to equip everyone with the knowledge and tools needed for a safer online experience. smartIT proudly supports this far-reaching online safety awareness and education initiative, co-managed by the Cybersecurity and Infrastructure Security Agency (CISA) and the National Cybersecurity Alliance.

Conclusion
If you want to ensure that the cybersecurity protection measures for your New York Metro Business are current, contact us!

For more information about Cybersecurity Awareness Month 2023 and how you can participate in various activities, please visit CISA's website and Stay Safe Online. Don't forget to follow and use the hashtags #CybersecurityAwarenessMonth and #SecureOurWorld on social media throughout the month to join the conversation.

About Cyber Security Awareness Month
Cybersecurity Awareness Month is a vital initiative designed to engage and educate both public and private-sector partners through various events and initiatives. Its ultimate goal is to raise awareness about cybersecurity, enhancing the nation's resiliency in the face of cyber incidents. Since its establishment by a Presidential proclamation in 2004, Cybersecurity Awareness Month has gained formal recognition from Congress, federal, state, and local governments, as well as leaders from industry and academia. This collective effort is indispensable to maintain a cyberspace that is safer, more resilient, and continues to offer immense opportunities for growth in the years to come. For additional information, please visit CISA's website and Stay Safe Online.
Contact us to start your journey towards a safer and more secure online presence.